Booking activites
Help customers book the right room for their activity. Help you shape and diversify your offering.
What is an activity?
In Jammed, activities are things like band rehearsals, yoga classes, dance practices and photography sessions. In other words, anything your customers can do in your studio.
Why add activities to your booking page?
If your customers can do a wide range of activities in any one of your rooms, Jammed can help them book the right space for their activity. And because you can set different opening hours and hire rates for each activity in any given space, it means you can set the fee according to how much kit and set-up is needed, which diversifies your income and plays to your strengths.
All you need to do is tell Jammed (1) which activities are available in each room, (2) what hours of the day (or night) they're each available and (3) at what price. Then your customer can select the activity they're booking for, safe in the knowledge they've booked the right space for their needs.
Knowing what activity your customers are hiring the space for will help shape your offering, tailor the way you set up the room and give your customers more reasons to come back.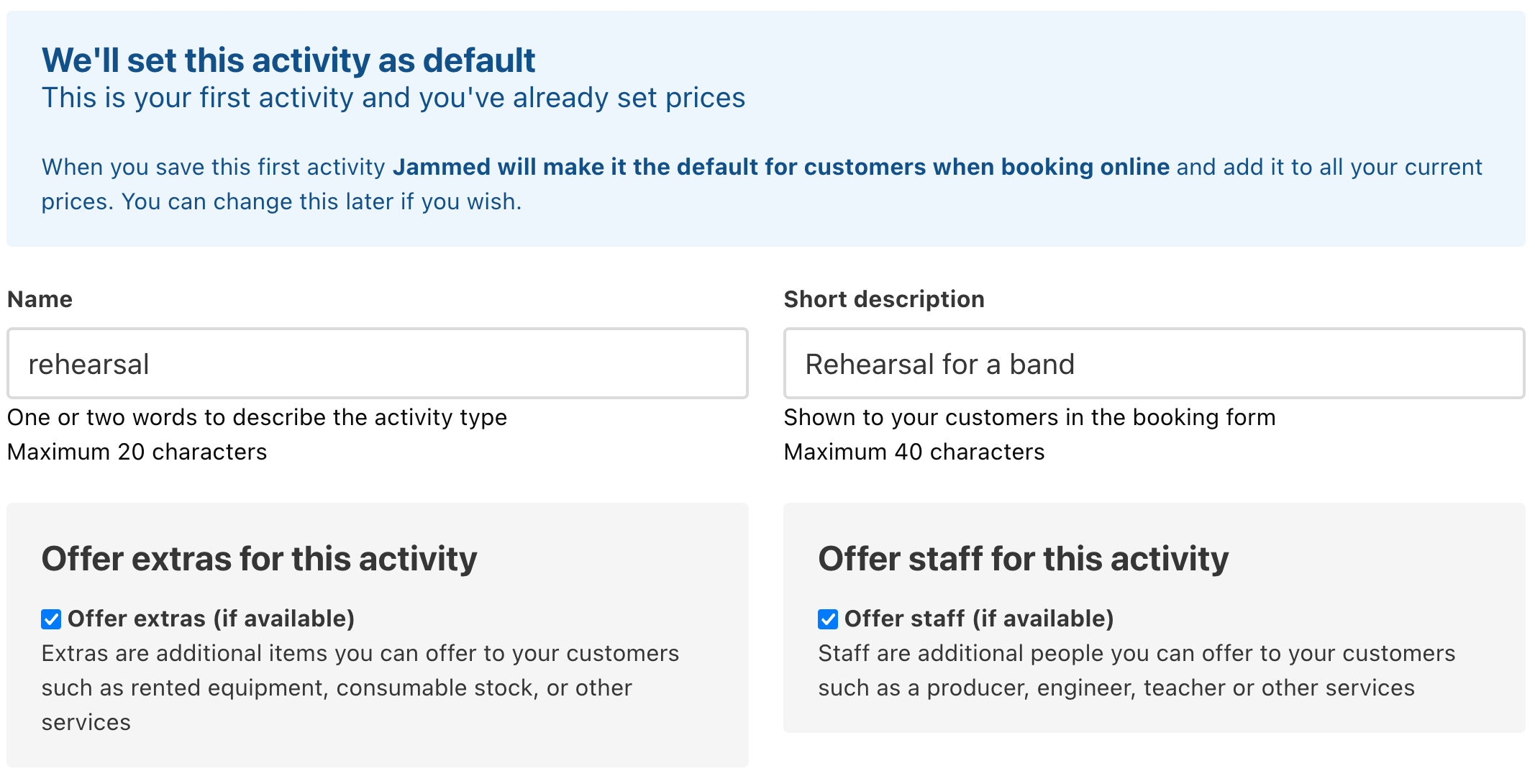 And it's free with your standard Jammed subscription. Boom!
How to add an activity to your booking page
It's quick and simple to add activities to your booking page. All you need to do is add an activity name and description in the text boxes, then add the price and opening hours for each.
Please note that the first price you set will be the default price for all activities in that room. This can be easily changed to include tailored pricing in the 'Price settings' page.
For help setting activity names, descriptions, prices and opening hours, visit our Support page.

See how Jammed can help your music studio
Jammed is created by an experienced team who are continually adding new
features and functionalities to help your business thrive.
Sign up to Jammed today