Invoicing and chasing payments
For one-off, last minute or larger payments, Jammed has got you covered
Most of your online booking fees will be paid at the time of reservation, but Jammed also offers a fast and efficient invoicing system for any ad-hoc, last minute or longer term payments. Invoices include payment due date, reminder schedule, a description of what the fee is for and a reference number. Each payment request can be linked to an unpaid booking or you can customise the payment item, as seen in the examples below.
Last-minute charges
Your customer has booked in with you online, but the drummer (it's always the drummer) has forgotten to bring their sticks. No one has brought their bank card. Instead of noting down the charge somewhere to be forgotten, or accepting an IOU, you can add the additional extra to their booking via the app and send them an instant payment request.
The customer will then receive an email from Jammed asking them to pay the amount owed. When they click on the link, they can pay via Stripe or Square payments and the fee is settled there and then.

Larger invoices
As recording studios often rent spaces for longer time periods than just a day here and there, instead of making several separate, shorter reservations, Jammed allows you to create week-long bookings and then sends one payment request to the customer.
Jammed calculates the fee based on the time and set-up costs, but as the studio owner, you can set the fee higher or lower to suit your business. You can also set longer payment terms for larger invoices or, if you're using Stripe, you can offer Klarna or Afterpay to your customers to create your own repayment schedule.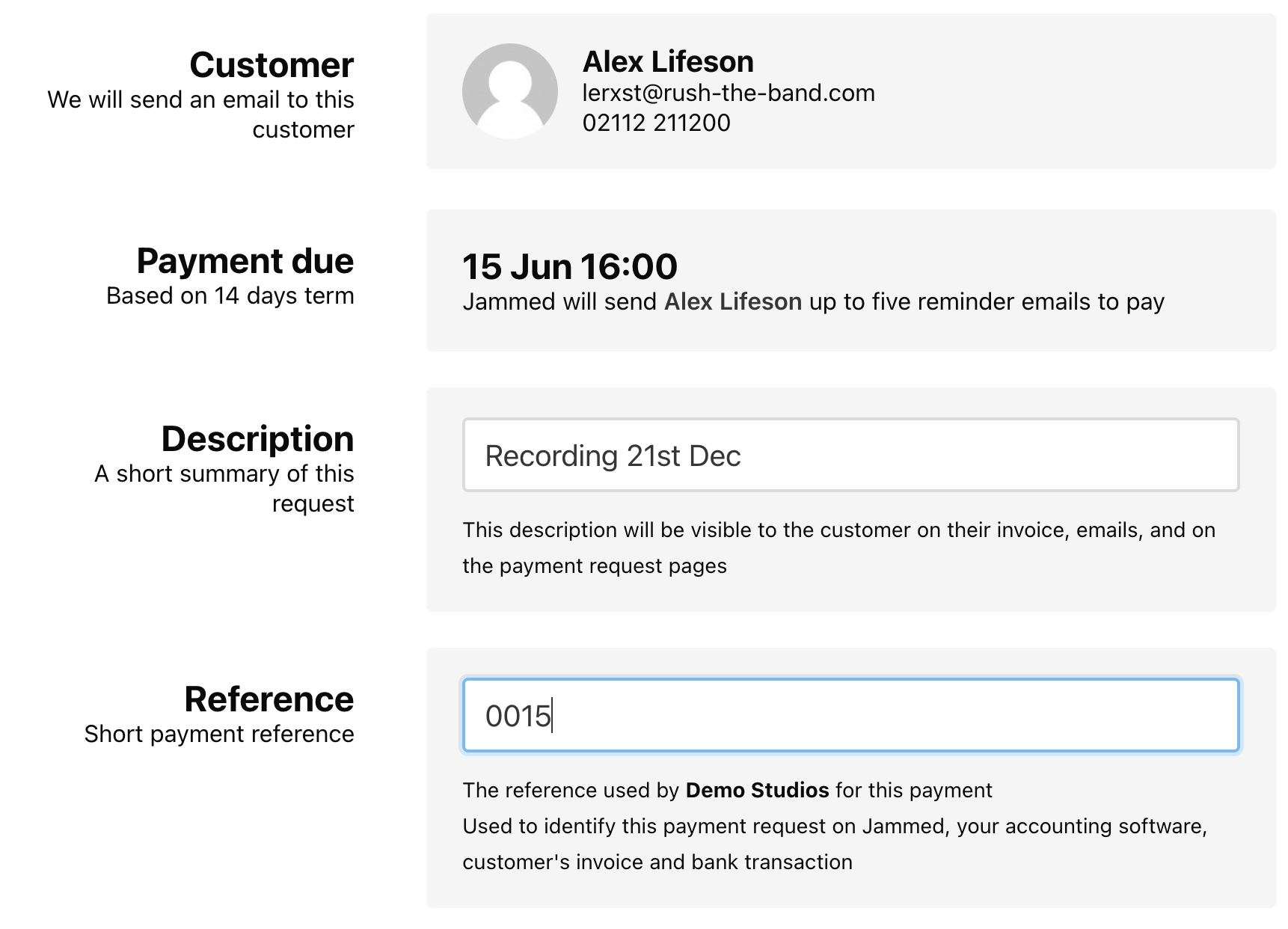 Sales taxes and business invoices
Jammed can also create and send business invoices to business customers. Say if one of the bands using your rehearsal space has management, doesn't pay upfront for studio time and needs VAT receipts. You can set up monthly payment requests for this customer that are sent to their management via email.
When this payment is made, the management company will then receive an email receipt containing your studio's legal company name and number as well as all the other details they need, such as local tax IDs, UK VAT number or DUNS numbers.
Bank transfers and manual payments
Jammed can also allow you to take payment offline, in combination with any of the given scenarios.
For example, if you've sent a payment request for a large invoice, you can save on transaction fees by simply providing your company bank details to the customer. They can pay by bank transfer or whichever payment option you agree to and avoid the transaction fees.
For payments on the day – Jammed integrates with Square Terminal for free, allowing you to take card payments in-person from customers as they leave their session.
See how Jammed can help your music studio
Jammed is created by an experienced team who are continually adding new
features and functionalities to help your business thrive.
Sign up to Jammed today